Viewing problems?

View email online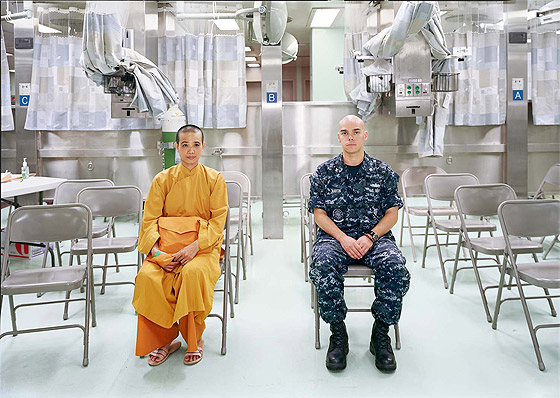 3 August 2012
ARTISTS ANNOUNCED FOR SEVENTH ASIA PACIFIC TRIENNIAL (APT7)
The Queensland Art Gallery | Gallery of Modern Art (QAGOMA) today announced that 77 artists and artist groups from 27 countries would feature in 'The 7th Asia Pacific Triennial of Contemporary Art (APT7)', marking the 20th anniversary of the international exhibition.

On display at Brisbane's Gallery of Modern Art (GOMA) and Queensland Art Gallery (QAG) from December 8, 2012 to April 14, 2013, the exhibition will range from internationally renowned senior artists, including Huang Yong Ping (China/France), Atul Dodiya (India), Raqib Shaw (India/UK) and Fiona Tan (Indonesia/The Netherlands), to young and emerging artists from the region.

QAGOMA Acting Director Suhanya Raffel said highlights of APT7 would include the first major focus on artists from West Asia; works by young generations of Indonesian and Vietnamese artists; new work from a group of seven Australian artists; and the most significant representation yet of contemporary work from PNG.

'Over 20 years, the Gallery's flagship contemporary art event has attracted over 1.8 million visitors and continues to be the only recurring art exhibition focussing on contemporary art from Asia, the Pacific and Australia,' she said.

'APT7 is made possible by founding sponsor the Queensland Government, presenting sponsor Santos, and principal partners Events Queensland, the Australia Council for the Arts and the Australian Government's Visual Arts and Crafts Strategy. The PNG component is sponsored by Kramer Ausenco, and a range of cultural organisations have also made invaluable contributions.

'Occupying all of GOMA and key spaces in QAG, including the iconic Watermall, APT7 will include several artists whose work has never been seen before in Australia, numerous major commissions, and site-specific works, Ms Raffel said.

'APT7 will feature a free opening weekend program involving many of the exhibiting artists and several performance events; the GOMA Talks series of discussion panels; two film programs; the 20 Year Archive project; as well as printed and online publications and education resources.

'Kids APT will premiere interactive artworks and installations by participating artists and the On Tour program will be presented throughout regional Queensland.'

QAGOMA Curatorial Manager of Asian and Pacific Art Russell Storer said the project '0-Now: Traversing West Asia' was developed in collaboration with Istanbul-based curator November Paynter.

'It will feature works by artists from Egypt, Turkey, Kazakhstan, Syria, Jordan and the diaspora, united by an interest in the movement of peoples and changing landscapes of West Asia,' he said.

'APT7 will feature vibrant new work by an exciting group of young artists from Indonesia and Vietnam where the emerging contemporary art scene is being driven by independent artist-run spaces and a highly engaged art community.

'The Australian component of APT includes new work from five Aboriginal artists — Daniel Boyd, Lorraine Connelly-Northey, Michael Cook, Timothy Cook and Shirley Macnamara — in addition to Louisa Bufardeci and Susan Jacobs, all reflecting on the varied histories that contribute to their distinctive senses of place, which is one of the key threads running through the exhibition.

'The major presentation of contemporary works informed by customary practices from Papua New Guinea will bring together performance objects with two major architectural commissions by artists from the East Sepik province.

'The public sculpture The World Turns by New Zealand artist Michael Parekowhai, which was commissioned in November 2011 to mark the fifth anniversary of the opening of GOMA and the 20th anniversary of APT, will be located outside GOMA on the bank of the Brisbane River.

'The twentieth anniversary of APT is an opportunity to reflect upon the unprecedented transformations that have occurred in Australia, Asia and the Pacific over the past two decades,' Mr Storer said.

'With this in mind, APT7's 20 Year Archive project invites four artists and artist collectives to explore a range of regional archives, including QAGOMA's Australian Centre of Asia Pacific Art, and present creative interpretations of their content."

Mr Storer said the Gallery's Australian Cinémathèque would present two major cinema programs for APT7: one that expanded upon the exhibition's exploration of social, political and aesthetic changes occurring throughout Asia, the Pacific and the Middle East during the last 20 years, and a historical survey of Chinese animation.

APT7 will be accompanied by a wide-ranging suite of publications, online resources and educational material.
For more information on the exhibition and artists visit

qagoma.qld.gov.au/apt7

.
APT7 artists
Mohammed Qasim ASHFAQ | UK/Pakistan

Asmat artists | Papua, Indonesia
Ben AFEX
Amatus AHMAK
Antonin ARKE
Primus ISIMIN
Stefanus JAKFU
Norbertus JOKOMEN
Paulis KOMARE
Paulis POKMAN
Yakobus SERAMBI
Dinisius SIRETS

Rina BANERJEE | India/USA

Daniel BOYD | Australia

Louisa BUFARDECI | Australia

Neha CHOKSI | USA/India

Tiffany CHUNG | Vietnam

Lorraine CONNELLY-NORTHEY | Australia

Michael COOK | Australia

Timothy COOK | Australia

Atul DODIYA | India

Inci EVINER | Turkey

Graham FLETCHER | NZ/Samoa

Parastou FOROUHAR | Iran/Germany

Uji HANDOKO EKO SAPUTRO aka HAHAN | Indonesia

HUANG Yong Ping | China/France

GIMHONGSOK | South Korea

Roslisham ISMAIL aka ISE | Malaysia

Takahiro IWASAKI | Japan

Susan JACOBS | Australia

Chia-En JAO | Taiwan

Tomoko KASHIKI | Japan

Sangdon KIM | South Korea

Joanna LANGFORD | New Zealand

An-My LE | Vietnam/USA

LEE Kit | Hong Kong/China

Shirley MACNAMARA | Australia
MADEIN COMPANY | China

Basir MAHMOOD | Pakistan

Sheila MAKHIJANI | India

Richard MALOY | New Zealand

MIXRICE | South Korea

NGUYEN Manh Hung | Vietnam

NGUYEN Minh Phuoc | Vietnam

NGUYEN Thai Tuan | Vietnam

Manuel OCAMPO | The Philippines

PARAMODEL | Japan

Pratchaya PHINTHONG | Thailand

PHUAN Thai Meng | Malaysia

PROPELLER GROUP | Vietnam/USA

Sara RAHBAR | Iran/USA

Wedhar RIYADI | Indonesia

Edwin ROSENO | Indonesia

RUANGRUPA | Indonesia

Dominic SANSONI | Sri Lanka

Greg SEMU | NZ/Samoa

Raqib SHAW | India/UK

Dayanita SINGH | India

Tadasu TAKAMINE | Japan

LN TALLUR | India

Fiona TAN | Indonesia/Neth.

TE Wei | China

Sopolemalama Filipe TOHI | Tonga/NZ

TROMARAMA | Indonesia

Tintin WULIA | Indonesia/Aus.

YUAN Goang-Ming | Taiwan

ZHOU Tiehai | China
Papua New Guinea (Co-curator: Martin Fowler)
SULKA: Camilius TEPE (team leader), Paskalis BILL, Moky CAMILIUS, Makude JOESEPH, Tadius LOHALI, Herman PAPE, Antonius SAVUO Jr, Herman TEP, and Bernard VIETON.

ARAWE: Bruno AKAU, Alfred SAPU

POMIO: Damien GULKLEDEP

COASTAL ARAPESH: Alex GABOUR (team leader), Connor AUKA, James AUSORI, Alex BERRY, Connor KOMONAIN, Joan MABUT, Fransica SALID, Joe SARUM, Rupina SUNA, Baka WILSON.

TOLAI: Iatapal Cultural Group; Ravat Cultural Group, Vunapaka Cultural Group;

BAINING: Katnanat ELISON; Allana MOVANA

IATMUL: Issac KAPUN; Gibson KAPUN, Aamus KAMDUKA, Ganot KAM, Willie MASO; David YAMANAPI

BRIKITI CULTURAL GROUP: Waikua NERA (team leader), Nikit KIAWAUL, Kano LOCTAI

KWOMA ARTS: Anton WAIAWAS (team leader), Kevin APSEPA, Simon GOIYAP, Jamie JIMOK, Nelson MAKAMOI, Rex MAUKOS, Terry PAKIEY

Senior project advisors: Waikua NERA (Abelam), Anton WAIAWAS (Kwoma), Gesley RIVAN (Tolai), Damien GULKLEDEP (Pomio), Camilus TEPE and Robert DIUA (Sulka), Otto KAMA and Anton AQUI (Iatmul) and Alex GABOUR (Coastal Arapesh).
0 – Now: Traversing West Asia
(Co-curator: November Paynter)

Cevdet EREK | Turkey

Erbossyn MELDIBEKOV | Kazakhstan

Almagul MENLIBAYEVA | Kazakhstan

Hrair SARKISSIAN | Syria/Armenia

Wael SHAWKY | Egypt

SLAVS AND TATARS | Eurasia

Oraib TOUKAN | USA/Jordan
The 20 Year Archive

Heman CHONG | Singapore

{disarmed} imagining a Pacific archive:
Torika BOLATAGICI | Australia/Fiji
Mat HUNKIN | New Zealand/Samoa
Teresia TEAIWA | USA/Kiribati/NZ

MAP OFFICE | Hong Kong, China

RAQS MEDIA COLLECTIVE | India

KID'S APT DRAWING ARCHIVE
Opening Hours

| | |
| --- | --- |
| Monday to Friday | 10.00am – 5.00pm |
| Saturday and Sunday | 9.00am – 5.00pm |

(The Gallery has late opening hours when evening
Australian Cinémathèque screenings are scheduled.)